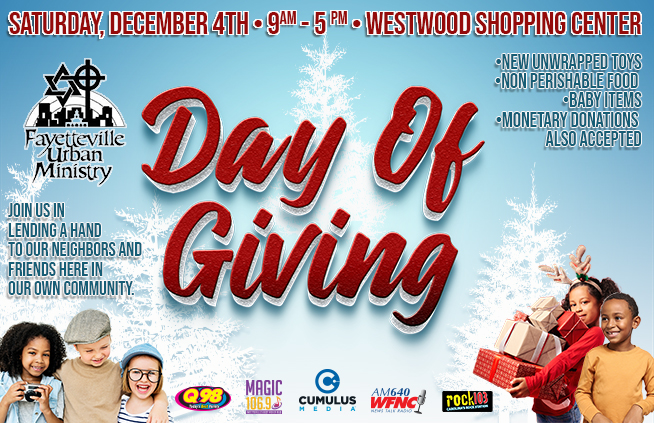 We've been through some tough times, haven't we? While we're all still feeling the effects of COVID, many are still battling the daily struggles on top of it all. Food insecurity, housing and utilities in question, perhaps being unable to work… we all deserve a chance to feel a little ease during the holiday season.
And that's why we need your help. Our friends, our neighbors, folks right here in our own communities are doing their best to maintain, but aren't always able to provide for those extras around the holidays.
December 4th, 2021 is the Day Of Giving. Your favorite radio stations will be broadcasting live 9am – 5pm at Westwood Shopping Center- and we'd love to see YOU!
We've teamed up once again with the Fayetteville Urban Ministry to lend a hand to our neighbors. Non perishable food items, new toys, new coats, hats, gloves, monetary donations… will all be welcomed and appreciated. These donations will go directly back to our community.
Perhaps a donation isn't something you can do right now… we understand. You can still help as a volunteer, and donate your time and talent! Contact Fayetteville Urban Ministry for volunteer opportunities!
At Fayetteville Urban Ministry their focus is transforming lives through FAITH, HOPE, LOVE, and SECURITY. The Find-A-Friend youth program strives to spark FAITH in youth for a brighter tomorrow.The Adult Literacy & Education Center establishes HOPE for a better future through the gift of reading, education, and job preparation.The Emergency Assistance program seeks to LOVE our neighbors by meeting their basic needs for food, clothing, and crisis support. Finally, The Nehemiah Project builds SECURITY in our community by providing free home repairs to low-income homeowners.
You can learn more about the amazing programs at FUM HERE