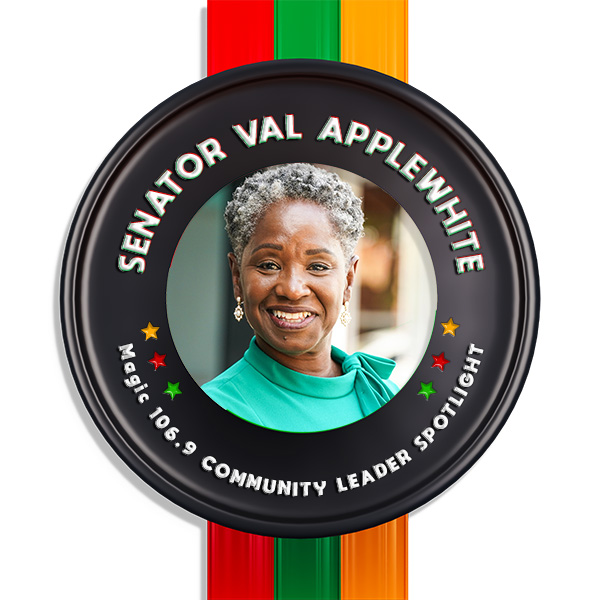 NC State Senator Val Applewhite was elected in 2022 to represent District 19; she is the first African American woman senator elected to represent Cumberland County. Her previous elected position was as a member of the Fayetteville City Council where she served three terms as the District 7 Representative.
She is an Air Force Veteran who retired honorably after 20 years of active-duty service. She continued her service to our country as a DoD Civilian at the Air Force Pentagon Communications Agency. The Air Force core values of "Integrity first, Service before self, and Excellence in all we do" have remain the foundation of her military and public service career.
She has more than 15 years of political, social and health equity and advocacy work. Most recently she has served as the Regional Director for Healthier Together – Health Equity Action Network. She has actively advocated for fair voting policy in positions with non-profit organizations Advance Carolina and Democracy North Carolina. As a plaintiff in Covington v. the State of North Carolina, a case that was heard by the Supreme Court of the United States, she helped to change the political landscape of Legislative voting districts in North Carolina.
She holds a MS in Political Science with Southern New Hampshire University and a Bachelor of Business Administration from Strayer University, cum laude.
Appointed by Governor Cooper, she is member of the State of North Carolina Disciplinary Hearing Commission. She has served as a member of Fayetteville State University Board of Trustees member and a Board member of LEAD NC, a non-profit that seeks to cultivate the next generation of community and civic leaders for North Carolina. She has held numerous national, state, and local political positions.